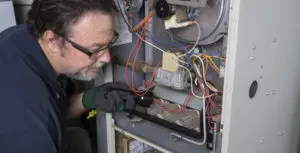 It may be summer now, but it's not too early to start thinking about your home's heating components. If you live in Salt Lake City, you know that having an operating furnace is crucial to surviving the cold Utah months. You can do some things to maintain the full function of your heater, and there are also some steps you should take if you know that it is broken. Here are a few of them:
At home, there are some things you can look for to make sure your furnace is still working properly and not broken. When it is running, you want to make sure that warm air makes its way throughout your entire house and is distributed evenly. If it is blowing cold air, something is wrong. If it is not turning on, something is probably broken. Something you can do at home to keep your furnace running efficiently is to change the filter regularly. Being aware is one of the best forms of prevention.
Having a professional technician come to your home to do regular inspections and maintenance on your heater is a great way to prevent problems down the road, and a great way to avoid having a broken heater. These experts can tell you the "health" of your furnace and let you know if any repairs need to be done. It's just as important to have these done regularly as it is to see a doctor often for your physical health.
If you suspect that your furnace is broken or that something is wrong, call a heating service right away to come check it out. Some heating repair companies are open twenty-four hours a day, and they'll be the best option for help in your time of emergency, especially if it's cold outside and your home isn't getting warm as it should. Before they even come to your Salt Lake City home, they can answer any of your questions and help you as best they can over the phone.
You may be dealing with the summer heat now, but preparing now for the cold months can save you time, money, and stress. Don't wait until the snow is falling to find out you have a broken furnace. One of the best things you can do for your heater is to have regular maintenance done, so you don't run into any problems in the middle of a snowstorm or freezing temperatures. Avoid having a broken furnace when you need it the most.
Use All Utah Plumbing, Heating, & Air for a professional, comprehensive maintenance inspection of your furnace. If it's broken, we will be able to identify and repair the necessary components. Should you need a new furnace, our experienced technicians can help with that, too. Our White Glove Service means that anytime you receive service from our licensed technicians, they will treat your home with the respect and care it deserves. Don't settle for anything less from your maintenance company.