How much does it cost to replace a sewer line
December 12th, 2022
Sewer line replacements can be expensive. At All Utah Plumbing, Heating, and Air, we are committed to maintaining and preventing damage to your sewer line so that replacement isn't necessary. However, wear and tear on your pipes is inevitable, and eventually, you may need to invest in replacing your sewer line.
How long will my sewer line last?
Depending on your pipe's material, your sewer line may last between fifty to a hundred years. Cast iron pipes last (on average) seventy-five to a hundred years, while orangeburg pipes tend to last only fifty. PVC, clay, and cement pipes are the most resilient and can last up to a hundred years. Unfortunately, external factors such as shifting soil, grease, rust, and tree roots may cut your sewer line's lifespan in half.
When do I need to replace my sewer line?
Sewer lines may need to be replaced for a variety of reasons, but there are a few tell-tale signs to look out for:
cracked foundation
mosquito/pest infestation
slow-moving household drains
frequent clogs in kitchen and bathrooms
strong odors inside or outside your home
soggy, bright green patches on your lawn
mold and mildew on ceilings, walls, and floors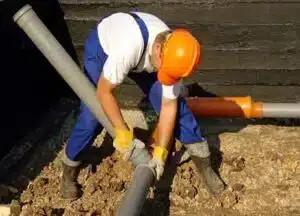 How much does a sewer line replacement cost?
The average cost for a full sewer line replacement in the United States ranges between $5000 and $1300, or $50 to $250 per foot of pipe. Expenses vary depending on the size, material, and accessibility of the line. Some insurance policies include sewer line repairs and replacements, though coverage is often limited. If your sewer line is cracked or damaged, call All Utah Plumbing, Heating, and Air for a cost estimate for your sewer line replacement.
What does the sewer line replacement cost cover?
Sewer line replacement costs cover the full replacement process, from the first inspection to the last repairs. A few of the services include:
Video Inspection: $100-$500
Pipe Replacement: $50-$250 per foot (depending on material/size)
Trenching: $4-$12 per foot
Ground Excavation: $30-$70 per yard (exposes the pipes)
Old Pipe Haul: approximately $250
Cleanup: $500-$12000 (may include driveway repairs, resodding a lawn, and water damage restoration)
How long does it take to replace a sewer line?
Most sewer line replacements take approximately one to three days, but complex pipe layouts may take five days or more.
At All Utah Plumbing, Heating, and Air, we are committed to providing fast, customer-oriented same-day service for all of your household needs. We are committed to White Glove Service, meaning we will treat your home with the care it deserves, and we will be transparent about the cost associated with our work. If you suspect your sewer line may need to be repaired or replaced, call us today at (801) 877-6365 to schedule an appointment.