With outdoor temperatures dropping, your water heater becomes an increasingly essential component of your home. Unreliable water heaters can disrupt your entire life. You can't live through a Utah winter without reliable hot water to keep your home safe and warm throughout the season. 
So what's the secret to hot water year-round? Turns out, it is crucial to maintain your water heater. A water heater's average life expectancy is 10 years. However, they can be more durable if properly maintained in your home. Consistent professional evaluation of your water heater will increase its lifespan by several years, plus a well-maintained heater will save you anywhere from 12% to 15% on your monthly energy bills. Imagine: one simple yearly inspection can save you from cold showers, high energy bills, and an unhappy family.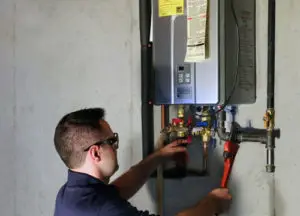 You may need to have your water heater checked if it has been a while. If any issues are caught early during this maintenance service, you could save yourself from expensive repairs, replacement costs, and freezing morning showers. 
So with that being said, what are the signs that it is time to have your water heater evaluated by a professional from All Utah Plumbing? 
Hot water is becoming colder than ever before. You find yourself washing your hair faster than ever, afraid that your shower will become cold mid-shampoo. A water heater technician can inspect your system if you notice a drastic change in hot water availability on a daily basis.
You may notice rusty water coming from your faucets. This should be a sign to call a technician right away. It could be a problem with the water heater's internal components or the water source. An experienced technician will be able to help you identify the source of the problem and recommend the best course of action, depending on what's causing the root of the issue. 
Water stains on the floor or walls around your water heater could indicate an internal problem. It's important to contact a professional if you notice water around your heating unit. Sometimes all you need is an internal repair. If the problem persists, you might need to replace your water heater. All Utah Plumbing can help with that, too, with a cost-effective, reliable replacement. 
If your water heater makes popping noises while heating water, it could be a sign that the heating element is damaged or worn out. Depending on the issue, heating elements can usually be repaired or replaced without the need to replace other parts. This could simply be a sign of age, and is a regular repair. 
All Utah Plumbing, Heating, & Air should be contacted if your water heater is showing any of these symptoms. No matter whether you need water heater repair or maintenance, our highly trained technicians are qualified and trustworthy. Our White Glove Service ensures that you are always fully informed about what we are doing and the associated costs. We respect your home and leave it clean during our same day service. 
Are you unable to recall the last time your water heater was inspected? Your water heater can be kept in good condition with some professional help! Call All Utah Plumbing, Heating & Air to get the high-quality work you deserve. We will give you exceptional White Glove Service.